WHERE TO FIND ATMs IN MUNICH?
The supply of cash is extremely important, especially when traveling. If you are traveling to a country you have never been to before and you do not know the situation regarding the supply of cash, it is better to think about it and get some information.
ATMs are
the quickest way
The easiest way for a tourist to get money abroad is to simply go to an ATM and get the desired amount. But here, the simplicity already ends, as suddenly, many questions appear as for example: "Can I also get money with a credit card?", "Do I have to pay operator fees?", "Do I have to pay exchange or bank fees?". Should I go to an ATM in the street or inside of a bank?" or "Are ATM-scams common in Munich or Germany?". But the most frequently asked question is: "Where can I find an ATM in Munich?".
Which ATM providers
are there in Munich?
In Munich, there are either bank-operated ATMs or privately operated ATMs, although the private companies also need an official license in Germany. So you can be sure that there are no fraudulent ATMs.
The largest operators of cash dispensers in Munich are:
Sparkassen (savings banks)
Private Banks (e.g. Commerzbank, Deutsche Bank, Hypobank, Postbank, Reisebank, Targo Bank, Unicredit)
Volks- und Raiffeisenbanken (cooperative banks)
Private Companies (e.g. Euronet, IC Cash Services, Cardpoint)
Which ATM
should I choose?
Now you will surely ask yourself: "Does it make a difference for me as a tourist at which cash machine I withdraw my money? The answer to that is "yes and no".
Basically, it does not matter whether you use a bank ATM or a privately owned ATM. As a foreign tourist, you will usually pay fees at every ATM. But the amount of these fees and of exchange rates vary from operator to operator. Private ATM operators usually have much higher transaction fees than banks.
My tip here is (if your own bank or credit card company does not reimburse the fees) that you always try to use a bank ATM.
If you like to read more about ATM fees in Munich and Germany, read my post "ATM fees in Munich and Germany" (coming soon).
Are ATMs easy
to find in Munich?
Depending on where you come from, you may find it either easy or difficult to find an ATM in Munich. Especially tourists from the USA will find the search for an ATM rather uncomfortable. In the USA you can find ATMs (especially in big cities) in almost every shop, supermarket, or restaurant. Not so in Germany or Munich.
Not long ago you had to go to banks almost without exception to get to an ATM. Often these banks also had mini-branches not only in subway stations, at large train stations, or shopping malls but also throughout the city. But then, more and more banks focused on reducing their expenses and closed many branches. The emerging gap was filled by a few private ATM companies. Today, in addition to the banks and their branches, there are more and more often private-owned ATMs, which can be found in streets or shops, especially in touristy areas.
The most common places where you can find ATM's in Munich are:
Banks (inside or outside of the Bank building)
Big train stations (Munich Main Station, Munich East Station, Pasing Station)
Big S-Bahn (urban rail) stations (e.g. Marienplatz, Main Station, Stachus (Karlsplatz), Hackerbrücke/ZOB)
Many subway stations (e.g. Moosach, Feldmoching, Rotkreuzplatz, Münchner Freiheit, Goetheplatz, Schwanthalerhöhe)
Touristy areas (e.g. Stachus (Karlsplatz), Viktualienmarkt)
Inside of touristy restaurants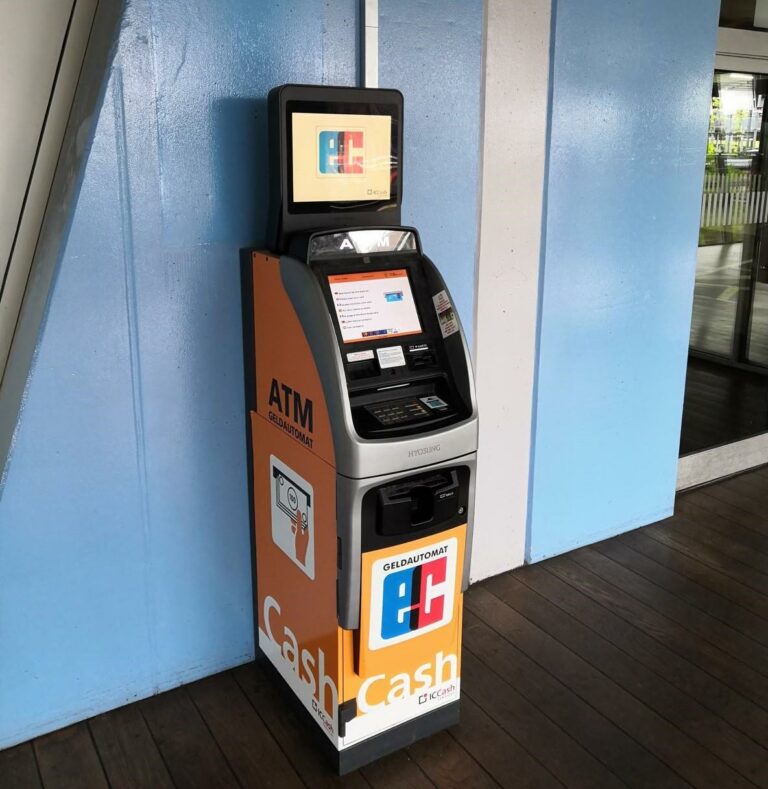 Use common sense when withdrawing money from an ATM in Munich
I recommend using bank ATMs when withdrawing Euros. There will be lower withdraw fees than at private-owned ATMs. Also be aware that some private-owned ATMs use the same colour as well known banks. For example IC Cash ATMs sometimes are orange, just like the well known ING Bank.
Summary and additional short tips and info about ATM's in Munich:
There are lots of ATMs throughout Munich, but maybe not in a density you might be used to.
There are bank-owned and private-owned ATMs.
The best Chance to find ATMs outside of bank buildings are touristy areas (Viktualienmarket, Marienplatz, Karlsplatz, etc.) urban rail stations and subway stations, and sometimes inside of very touristy restaurants of the Old Town.
Private-owned ATMs charge a much higher withdrawal fee than bank ATMs.
Private-owned ATMs can be confused with bank-owned ATMs as some use the same color.
Even many people speak and understand English, the term "ATM" is not very common. So when asking for the direction to the next ATM, better use the German word "Bankomat" (colloquial but common) or "Geldautomat" (official term).