THE BEST TIME TO VISIT MUNICH - MARCH?
When is the best time to visit Munich? Whenever you go to a destination abroad where you've never been before, you will ask yourself: When should I go there? Are there "good" or "bad" months? Of course every city looks far better on a nice sunny day than in heavy rain. There are only a few places in the world where it doesn't matter when to go, as the weather conditions are always perfect. Unfortunately, Munich is not such a place. Also hotel prices vary throughout the seasons. Here I will tell you about the best months of the year when you should visit Munich, and of course when you should avoid visiting Munich. This time I will tell you about the things you can expect throughout March in Munich.
During March, every citizen of Munich awaits spring. But often winter won't go and it still stays cold, especially during the night. Snow can still fall in the first weeks of March, but it won't stay long. After Fasching (carnival) the Starkbierzeit (strong beer season) begins in Munich. This brings the first boost to tourism in Munich, as the different brewery festivals, known as "Starkbierfest" get more and more popular with tourists from abroad. But March can also be the first month of spring, depending on the weather conditions. When there is a dry period or days with a warm wind from the south (called "Föhn"), you may have luck to enjoy a drink in a beer garden. The temperatures then may rise up to 15°C/59°F.
My recommendation: March can be an ideal month for a trip to Munich, but only if the weather conditions are good. Keep an eye on the weather forecast, especially the daily temperature and be quite spontaneus booking a flight and a hotel in Munich.
Outdoor activities (walking, hiking, cycling, beergardening, etc.):
Tourist Density (tourists in the city):
National Holidays and festivities
during March in Munich
Learn about the National Holidays during this month as well as other festivities you will encounter when travelling to Munich in March.
Starkbierfest (strong beer festival)
Between carnival and Easter is Lent. Many Bavarians fast during this time or at least try to reduce their consumption of sugar, meat and other luxury foods. In order to make Lent more pleasant, however, Bavarians have brewed a stronger beer with a higher alcohol content, sometimes considerably more than 7%. This tradition dates back to the 15th century.
Lent is therefore also called the strong beer season in Munich.
Some breweries in Munich celebrate this season with in-house-festivites. So Starkbierfest is not a big festival like Oktoberfest. Brewery-Restaurants like Nockherberg, Augustinerkeller or Löwenbräukeller open their gates daily and especially during the weekends, celebrating Starkbierfest with live-bands. It is usually necessary to buy tickets beforehand in order to take part.
Would I recommend
travelling to Munich in March?
The prices for hotel rooms are still quite low, but the Starkbierzeit (strong beer season) more and more brings tourists to the city. As Starkbierfest is (or was) usually a local thing in contrast to Oktoberfest, the last years show that it becomes more and more popular with foreign tourists. It is still an insider's tip as you will meet way more locals than tourists.
It is still possible to go skiing in the Alps. The Alps are just 1-2 hours away by train or car. In Munich, you can visit Museums, Art Galleries and enjoy Bavarian cuisine in the traditional restaurants. Outdoor activities are still limited due to the quite cold temperatures and weather conditions, but if you catch a period with sunny days and quite warm temperatures, you can enjoy a beer garden or sitting outside in the sun of a Café.
I would definitely recommend visiting Munich during March, but keep a close eye on the weather. Don't come if the weather forecast shows rain and cold temperatures. So March can be a good choice to come, but you have to be quite spontaneus.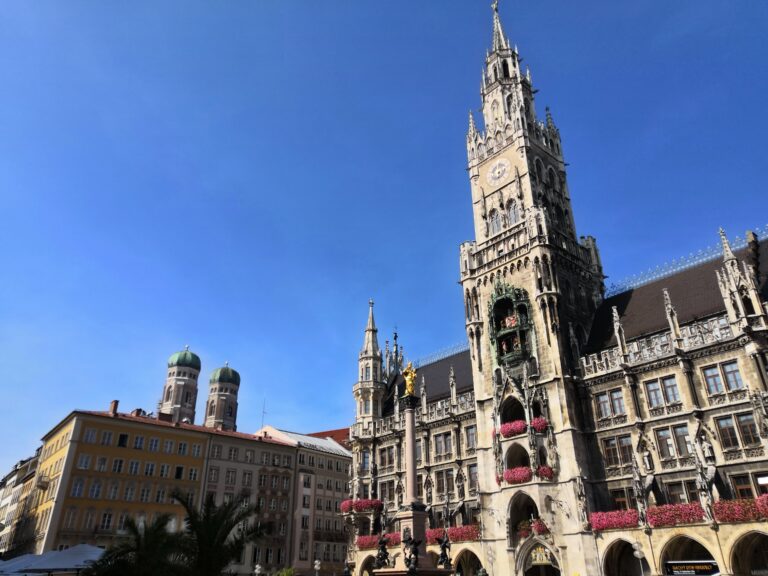 Detailed weather
during March in Munich
When I travel to new destinations, I always check the weather conditions and I also look for the best time to travel to that specific destination. And often I find statistics saying this or that month will be quite good or rather rainy. But I always wanted a more detailed view, because a month is actually a quite long period of time. The conditions in the beginning of a month can be completely different to the last week of the same month. Therefore I researched the weather data for Munich for the last 10 years. So you can have a more detailed look at the different days. Of course you have to know this is a statistic, which means you don't have a guarantee the weather will be exactly like this in the upcoming year. But it will give you a better feel how weather conditions are in Munich throughout the year. You can then use this knowledge to plan your trip accordingly.

As you can see here, the temperatures in Munich during March are changing from the beginning of the month to the end. While it is rather cold the first ten days of March, the last ten days and especially the last five days of March are quite warm and can bring the first early summer feeling with temperatures raching 20° C (68° F).