In late summer 2020 I was able to test the Premier Inn Munich City Center, a new hotel in the heart of Munich. During the Covid-19 pandemic 2020, the hotel businesses also in Munich came to a complete halt. During the summer months of 2020, it seemed the business is getting back on track and I got a very good (or quite crazy) rate of 39 € (~47 USD, ~34 GBP, ~74 AUD) per night for a double room on the official website.
Read on to see if the Premier Inn Munich City Center might be an option for your next stay in Munich.
Note: I'm testing hotels in Munich myself (I pay for it myself) and I'm not invited by the hotels. The reviews are therefore not paid advertisements but honest opinions.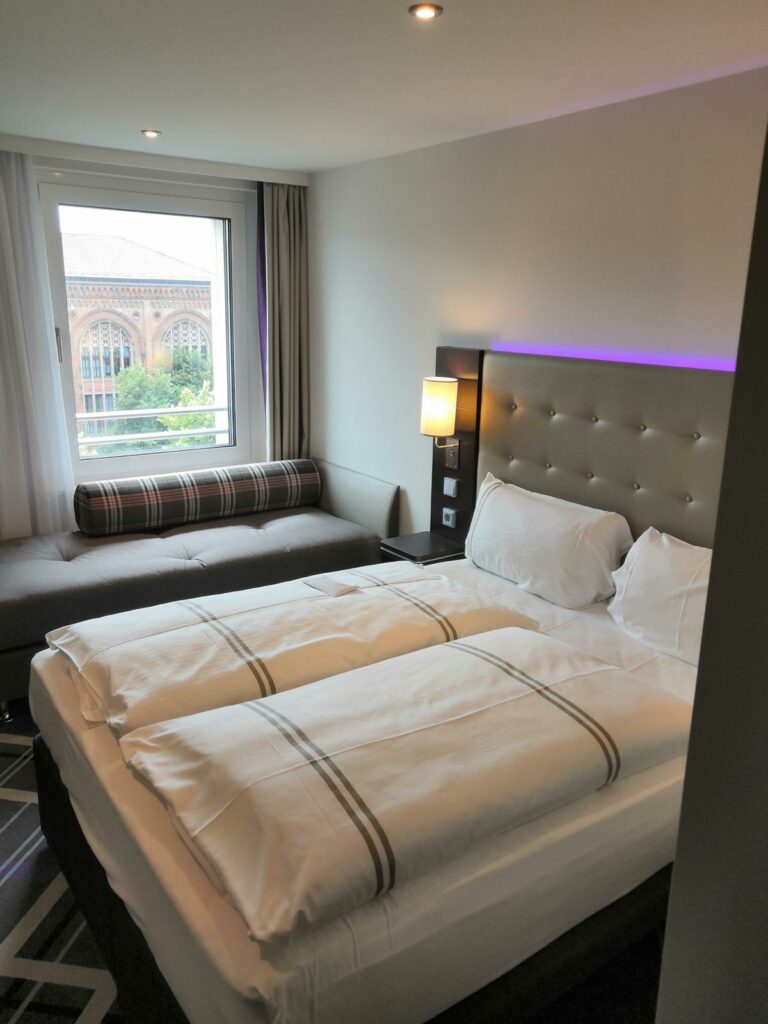 The Premier Inn Munich City Center is located (as the name already shows) in Munich's city center near Marienplatz, Karlsplatz/Stachus, and Sendlinger Tor.
The hotel is located directly on Sonnenstraße, the main street that circles the old town of Munich. This street actually marks the former city moat that led around medieval Munich. So the Premier Inn is actually located exactly where the medieval city wall once stood. Directly behind the hotel is the old town with all its sights. From the Premier Inn, it is only a short 10-minute walk to the city center (Marienplatz). All churches and other sights such as the Hofbräuhaus beer hall, the Church Of Our Lady, and the Viktualienmarket are also within walking distance.
Munich's old town is a safe neighborhood. Of course, there are a lot of visitors, especially during the peak tourist months, such as during Oktoberfest, the summer break (July, August), or during the Christmas Market. So in contrast to pure residential neighborhoods, there may be an increased number of pickpockets on the move here. But don't worry. This may sound worse than it is. Just try to keep an eye on your valuables and handbags, backpacks, and wallets at all times.
About one block to the northwest begins the "southern main station district". This multicultural neighborhood is unfortunately not that safe and might be a bit daunting for some travelers amongst you. If you want to learn more about the southern main station district, I recommend you to read my article "Is the southern main station district a no-go area? (coming soon)
Overall, however, the hotel is extremely centrally located and makes an ideal base for exploring Munich's city center in particular. Great shopping streets, many sights, perfect access to public transport and the main train station, as well as a variety of good restaurants, bars, and clubs make this location the ideal starting point, especially for young couples and solo travelers who want to explore the vibrant life of the city center.
From a traffic point of view, the hotel is ideally located. Especially if you arrive by public transport. Since both the urban rail and subway stations, "Karlsplatz/Stachus" and "Sendlinger Tor" are very close and the main train station is only a 15-minute walk away, the hotel is ideally located for arriving by plane or train. But also those of you who arrive by car can park in an underground garage. Parking spaces in the streets are rare and expensive. In addition, the old town is very narrow (the streets have hardly changed since the Middle Ages) and I do not really recommend going in by car, particularly if you are not used to driving in Europe and Germany.
I arrived by car. Already on the website of the Premier Inn Munich City Center, I could read that the hotel charges €16/night (~ 19.5 USD, ~14 GBP, ~25 AUD) if you want to park directly in the underground garage of the hotel.
I consider this price to be actually unbeatable for this central location, as the public "Contipark" underground parking garage at Karlsplatz/Stachus, which is only a block away, costs €25 per 24 hours (~30 USD, ~22 GBP, ~39 AUD).
However, since I personally get a better rate at Contipark (€9/night), I decided against the hotel garage and therefore can't say anything about the size and equipment. However, the hotel points out on its website that only a limited number of parking spaces are available and that they cannot be reserved in advance. So if you arrive by car, it could happen that all spaces are already occupied. In that case, your only options are the Contipark parking garage at Karlsplatz/Stachus, the Contipark parking garage at Oberanger (rather far to walk), the Sonnenhof parking garage in Landwehrstraße (€20/night, ~24 USD, ~17.50 GBP, ~31 AUD) or the Stachus parking garage (also €20/night) in Adolf-Kolping-St..
When I arrived, the display of the hotel parking garage also showed "Besetzt – Occupied". After I already had a parking space, I did not care about the reason. Either it was really full, or it wasn't really open yet, because the hotel was only opened a few weeks before.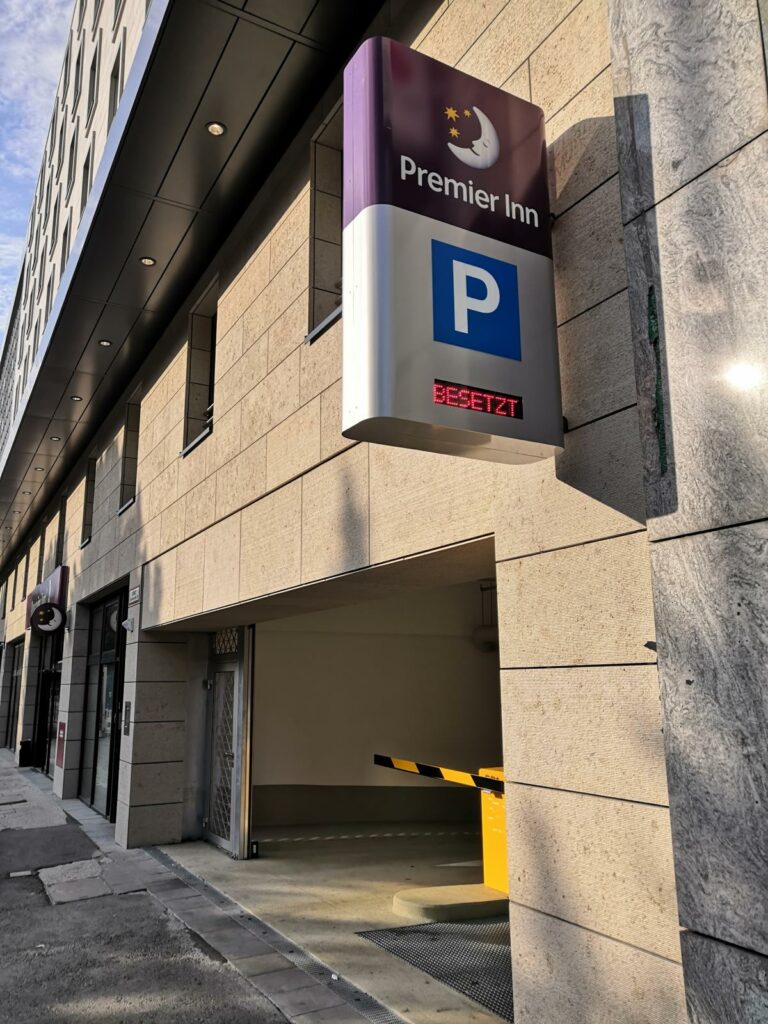 You enter the hotel directly from Sonnenstraße through a sliding door. On the right hand side is the reception with two counters. In the entrance area and to the left to the back extends the lobby with bar and the breakfast room.
The entire design is typical Premier Inn style. Here you notice that it is a British brand, as this is reflected particularly in the design. There are cozy looking armchairs with tartan pattern, velvet couches and the Premier Inn colors purple and gray are used discreetly. Still, Premier Inn tries to incorporate some local elements, and you'll find a few modern kitschy touches like a painted deer head or a young woman holding a beer mug.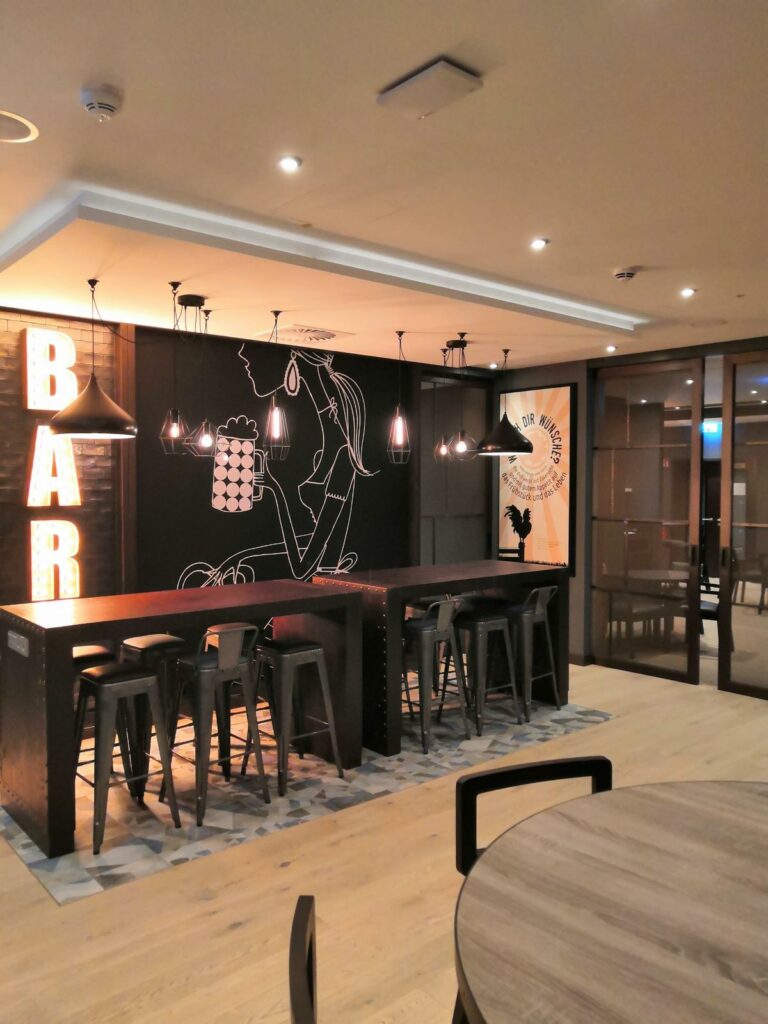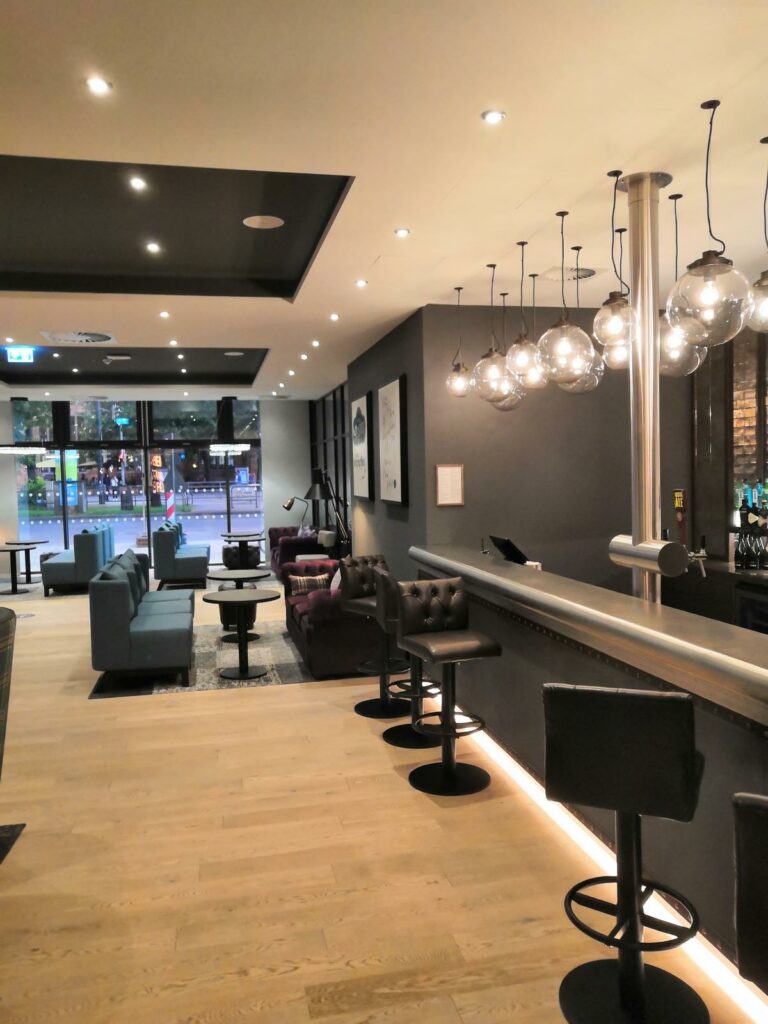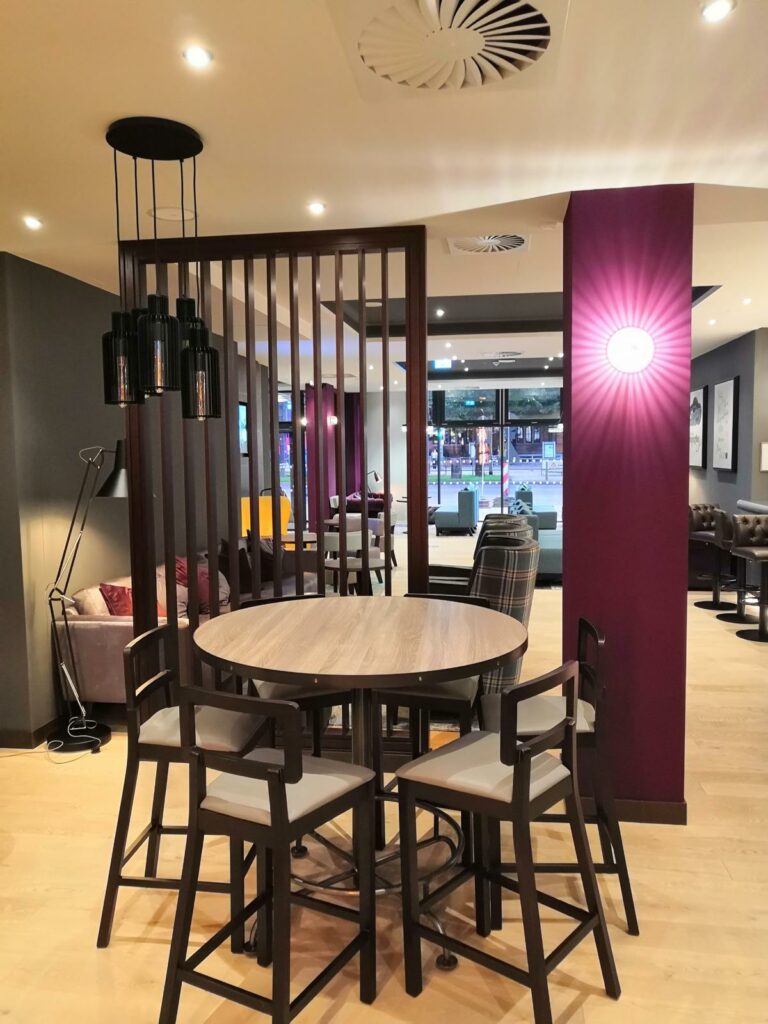 The check-in was extremely pleasant. A really friendly receptionist gave me a room on the sixth floor of the eight-story building. Since there were two of us traveling and the hotel was obviously not at full capacity, we were allowed to choose whether we wanted a (booked) double room or a "family room".
Hooray, an upgrade!!! We chose the family room, with the difference really only being that instead of an armchair with a side table, there is a sofa bed in the room to accommodate another person if necessary. Nevertheless, we were happy about the family room. Since there was still a gastronomy lockdown due to covid, they apologized profusely that unfortunately no breakfast or bar service could be offered.
However, this was not a problem, since the hotel is located in the city center and you could buy a coffee and a small breakfast sandwich somewhere in any case. Drinks or a bar visit weren't a problem either (at that time, catering establishments were allowed to open if they had an approved hygiene concept).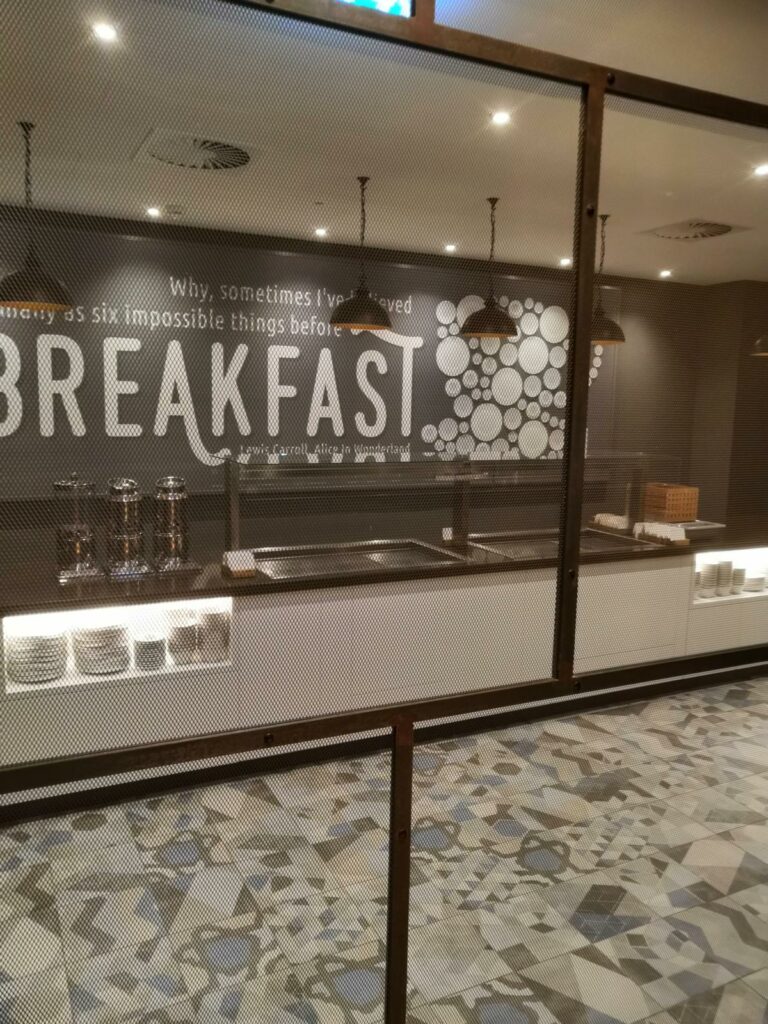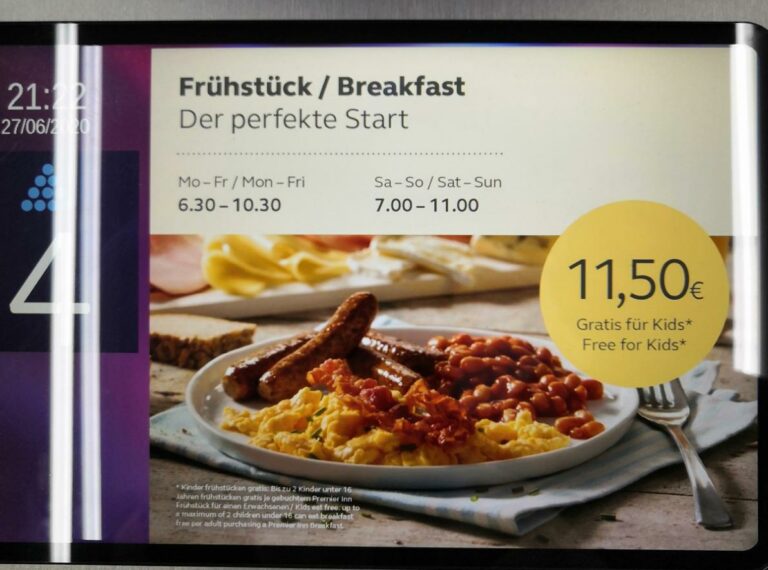 The room was, as mentioned, on the sixth floor and thus almost at the top. Unfortunately, there is no rooftop terrace or similar there. The view of the room to the Sonnenstraße was fairly spectacular and I enjoyed it very much to watch the hustle and bustle below a while.
For those of you who are a bit sensitive to noise, Sonnenstrasse is part of the main ring road around the city center. Accordingly, it is rather noisy and turbulent. In addition, there are several streetcar lines and also a little construction traffic, since the nearby subway station "Sendlinger Tor" is being modernized until probably 2025.
Nevertheless, the room was very quiet as long as you kept the window closed. By the way, the window could be opened completely, which I think is a big plus, especially during the summer or if you prefer fresh air instead of air conditioning.
With the window open or tilted, you could clearly hear the traffic down below, but not as much as I expected. This was probably due to the fact that you are already on the sixth floor and quite far up. The family room is relatively spacious. Besides a separate bathroom, there is a bed, a sofa bed, a wardrobe, and a work desk.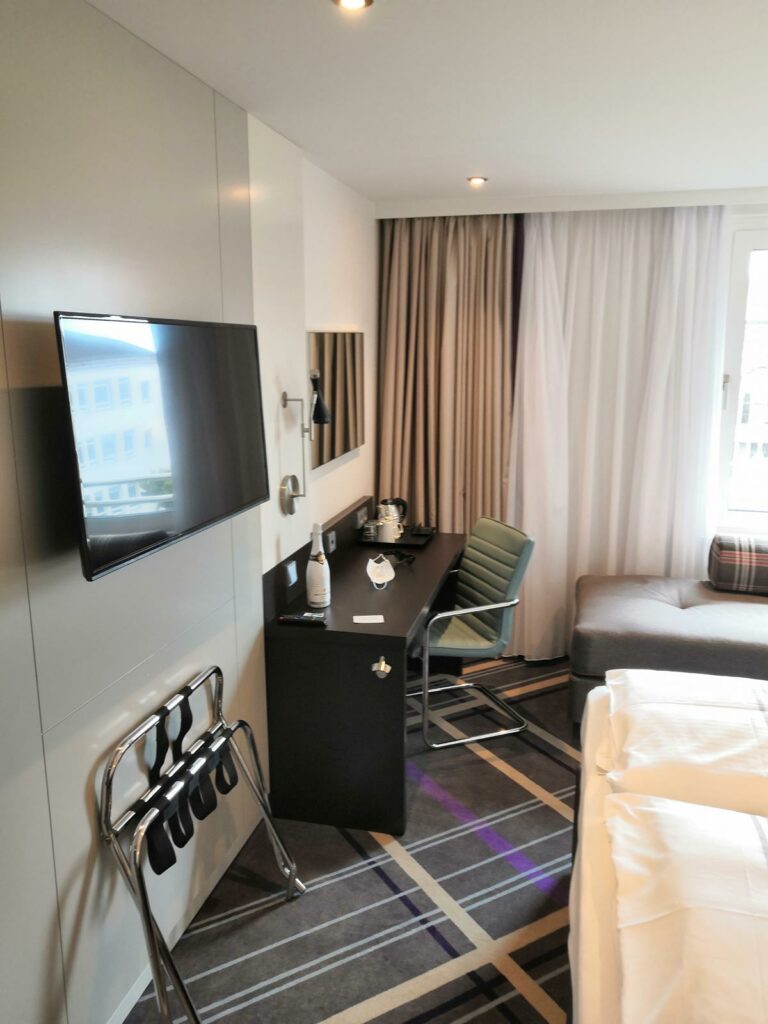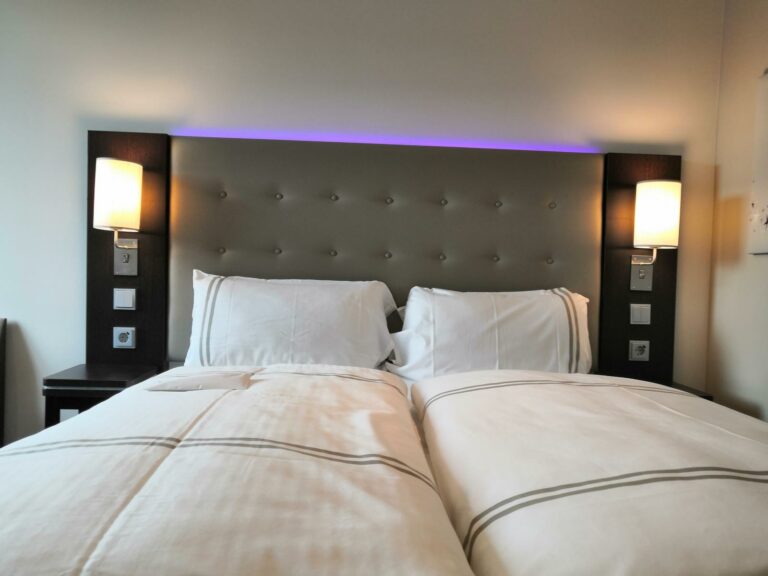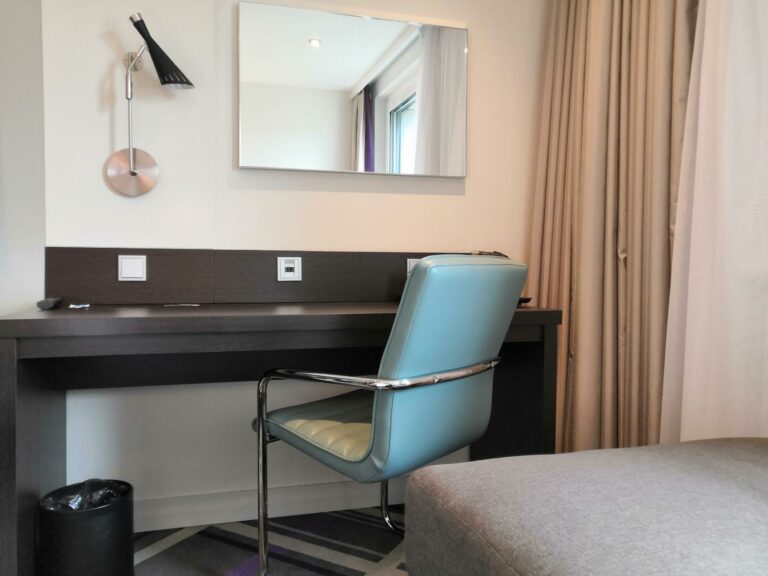 All the decor is in the Premier Inn colors and I really liked it. Since the hotel was just opened, everything was still brand new. I particularly liked the small and well-planned details of the furnishings. For example, there is a bottle opener mounted solidly to the desk (since you generally can't just unscrew crown caps in Germany). In addition, there was also a small kettle and cups/glasses available. However, due to hygiene measures, there were no instant coffee/tea bags available. However, this could have been obtained at the reception free of charge.
Furthermore, there was a large flat-screen TV with mostly German channels and of course a few English, Chinese, and Russian language channels, but mostly news channels.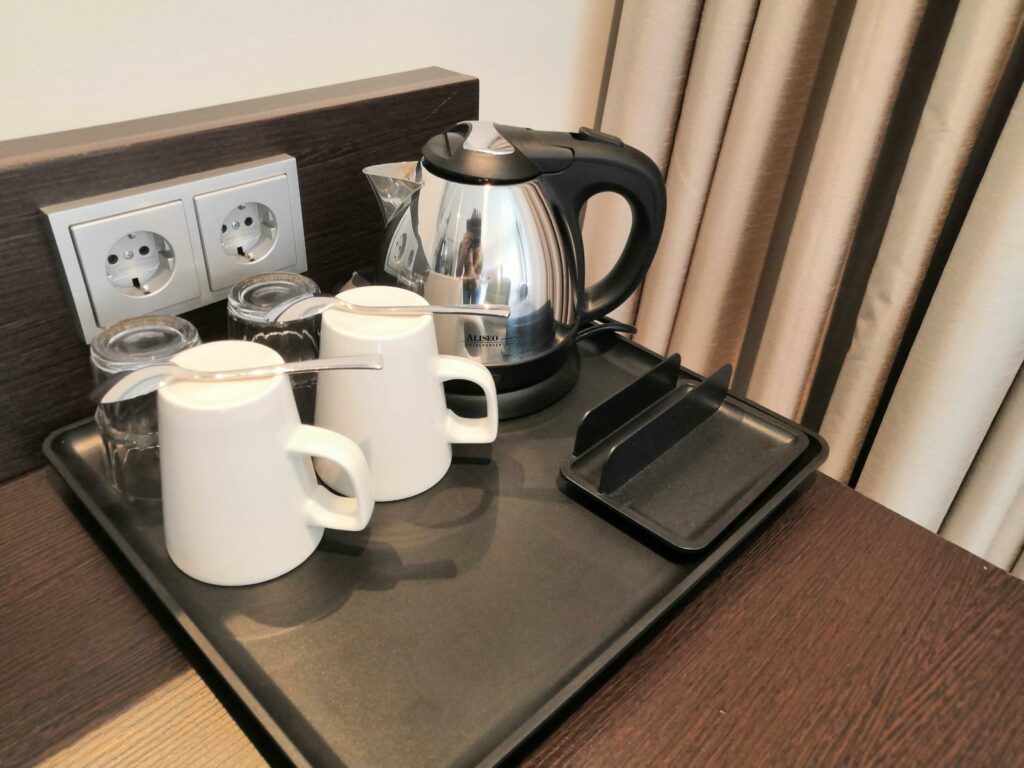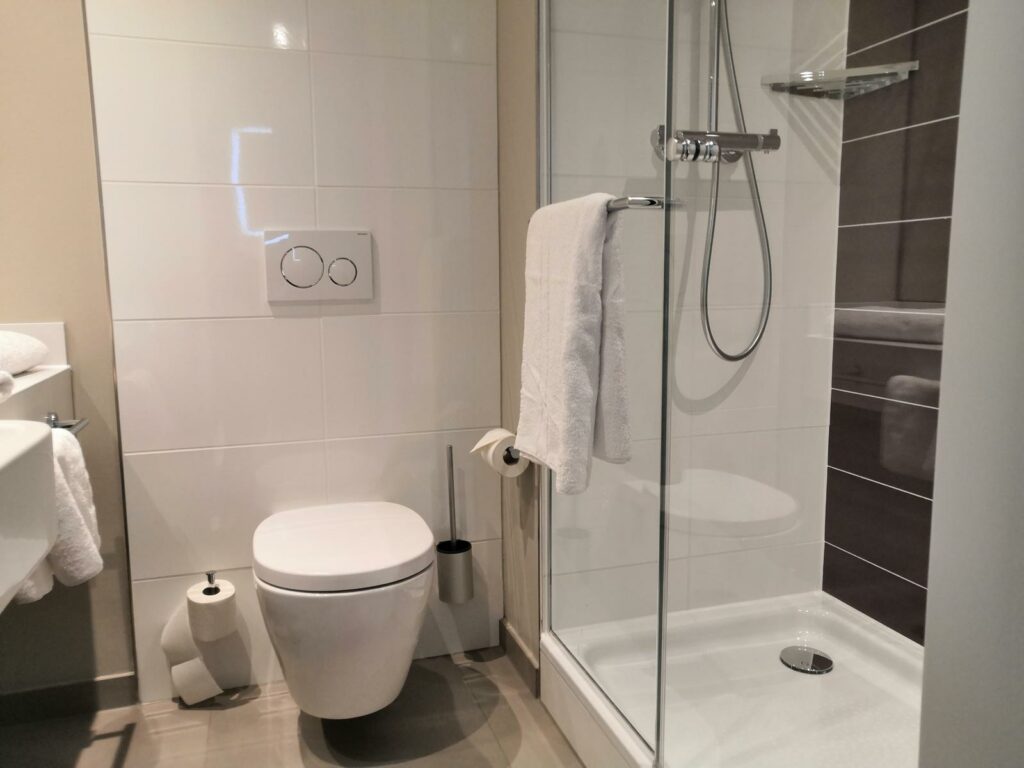 The bathroom was pretty spacious for a budget hotel and very modern. White, black, and sandstone tiles completed the design and matched well with the white bathroom furnishings. The shower was not a walk-in shower, but the access was not too high and even people with limited mobility can get along well here.
The bathroom had everything you need for a pleasant stay. There was a large mirror, and a vanity mirror. The sink was also quite large and not installed centrally, so that you also have a large space for your own cosmetics, shower gel, etc. The bathroom had a large mirror, a cosmetic mirror and a hairdryer.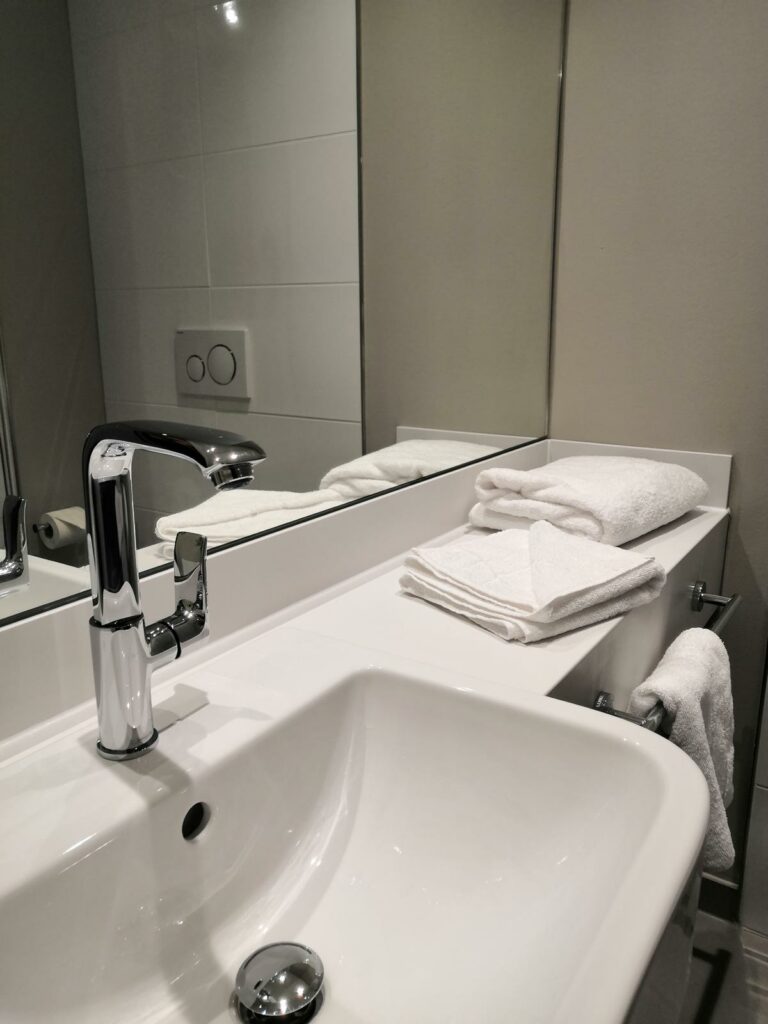 Shower gel, hand soap and shampoo were available free of charge from bulk dispensers. The hair dryer is not located in the bathroom, but in the hall dresser, which I felt was relatively smart. Of course, you could also take it into the bathroom and plug it into the outlet there. Overall, I really liked the bathroom and found it to be fairly spacious for a budget hotel.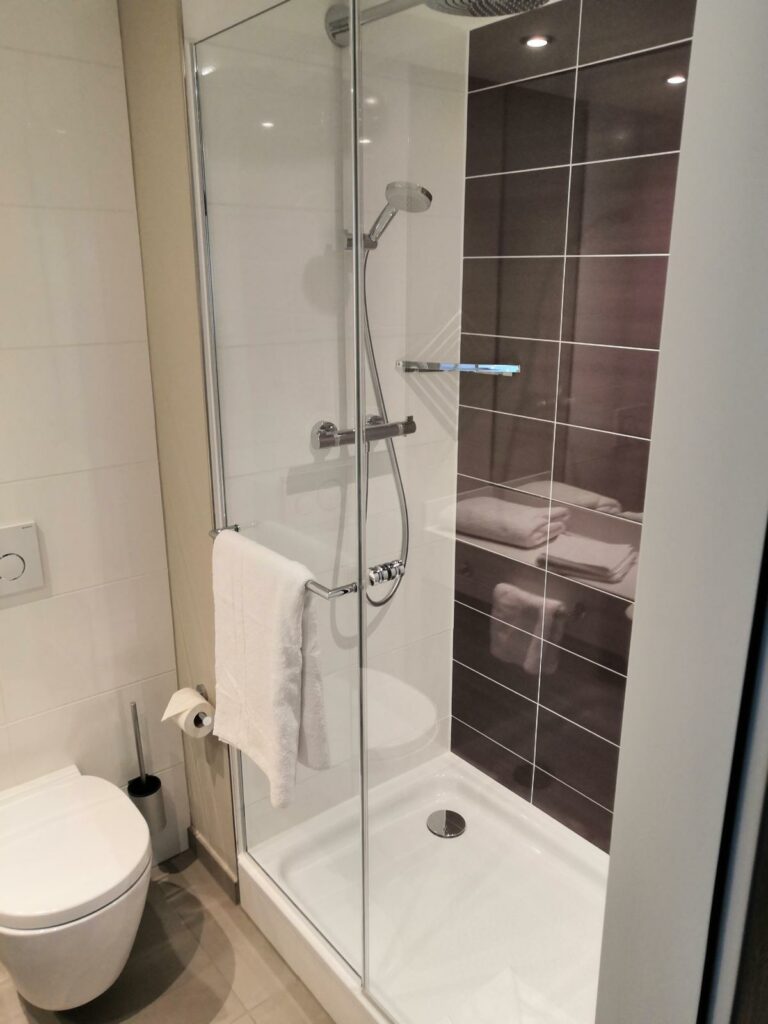 The bedroom or living room was well divided. I liked very much that you could see out of the window from the bed. But I liked even better the sofa bed, which can be used as a lounge sofa, for example, to read a book or to watch the hustle and bustle on the street while having a drink.
The hotel bed was very comfortable in my opinion and I could sleep well in it. Whether a hotel bed suits you or not however is always a personal matter. Two extra pillows were located in the small wardrobe in the entrance area.
I particularly liked the indirect LED lighting of the bed, as it rounded off the design. At the bed were bedside lamps, as well as an extra socket (Euro outlet). For those who may have forgotten their travel adapter, there is also a USB port at the outlet, so you can at least charge your small electronic devices, such as smartphone, tablet, camera or headphones easily.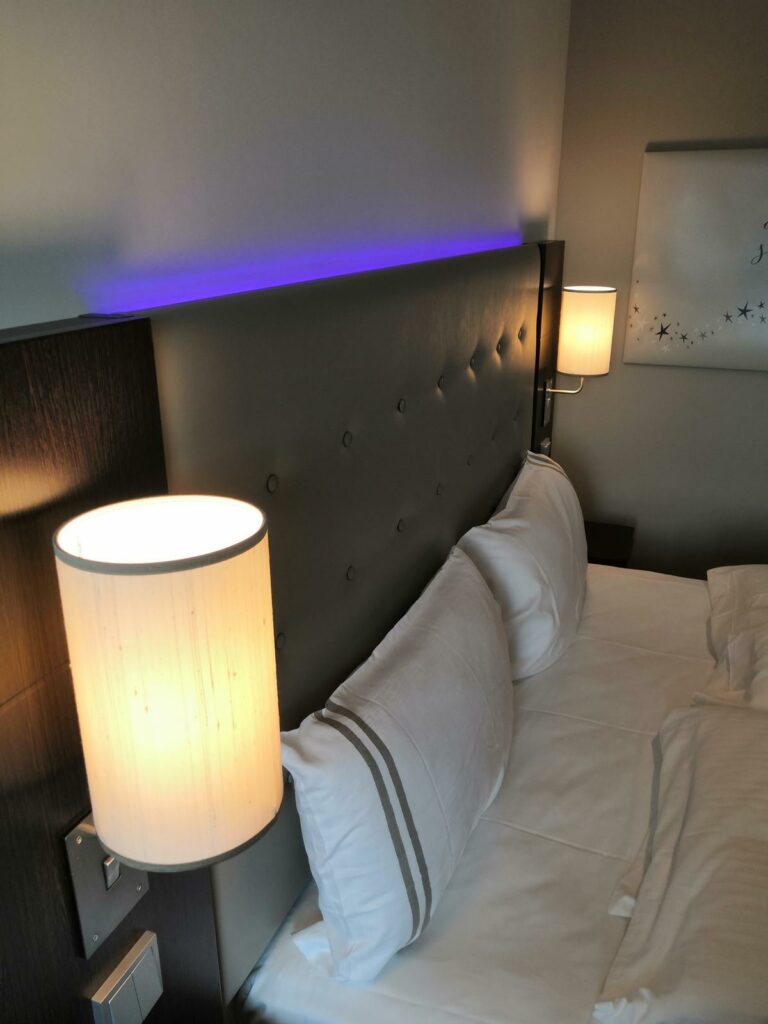 The desk was also big enough to open up your laptop and do some work, or just put your belongings on. Furthermore, the coffee/tea station was located on the table on an extra tray. Two power outlets, and a mounted desk lamp completed the setup. Since I also found an HDMI plug, I assume that you can connect your laptop, camera, etc. with an HDMI cable to the TV. However, I have not tried this, because I was not thinking of bringing an HDMI cable.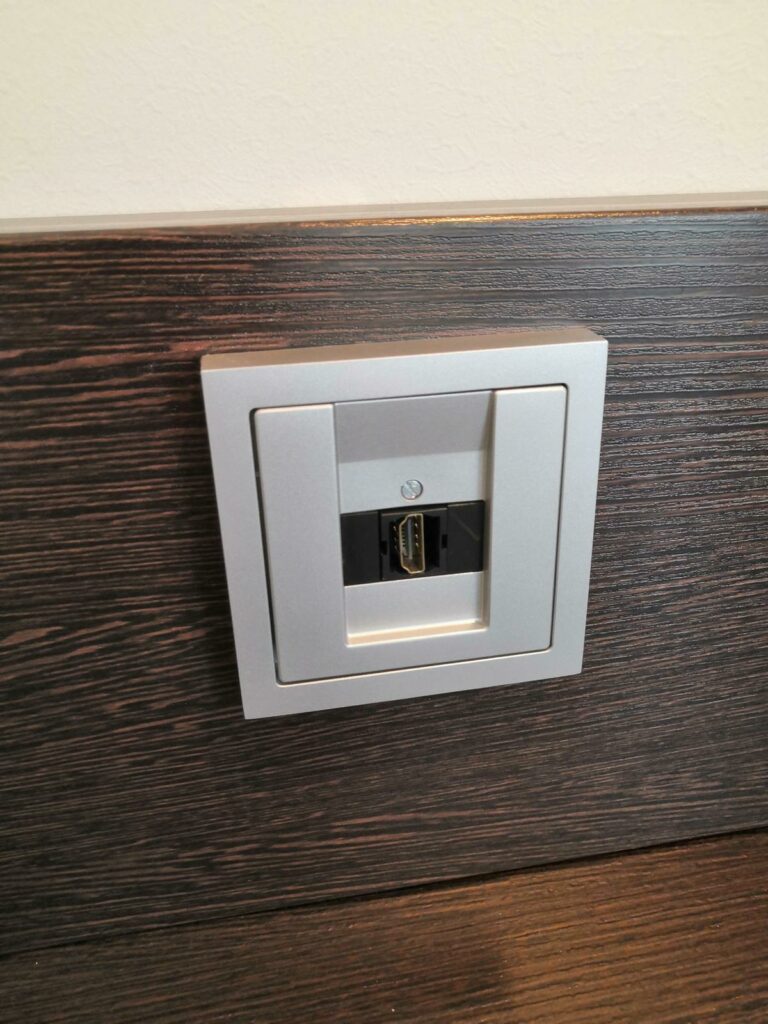 As mentioned before, I found it a big plus to be able to open the window (either tilted or fully open). Nevertheless, there was also air conditioning, which was even very modern and could be controlled via a wall touchscreen. The only drawback here, however, is that the air conditioning language is set to German and although much is self-explanatory, a small language barrier may arise here, unless you fiddle around a bit in the settings menu. It is certainly possible to change the temperature display to Fahrenheit instead of Celsius. But I have not tried that.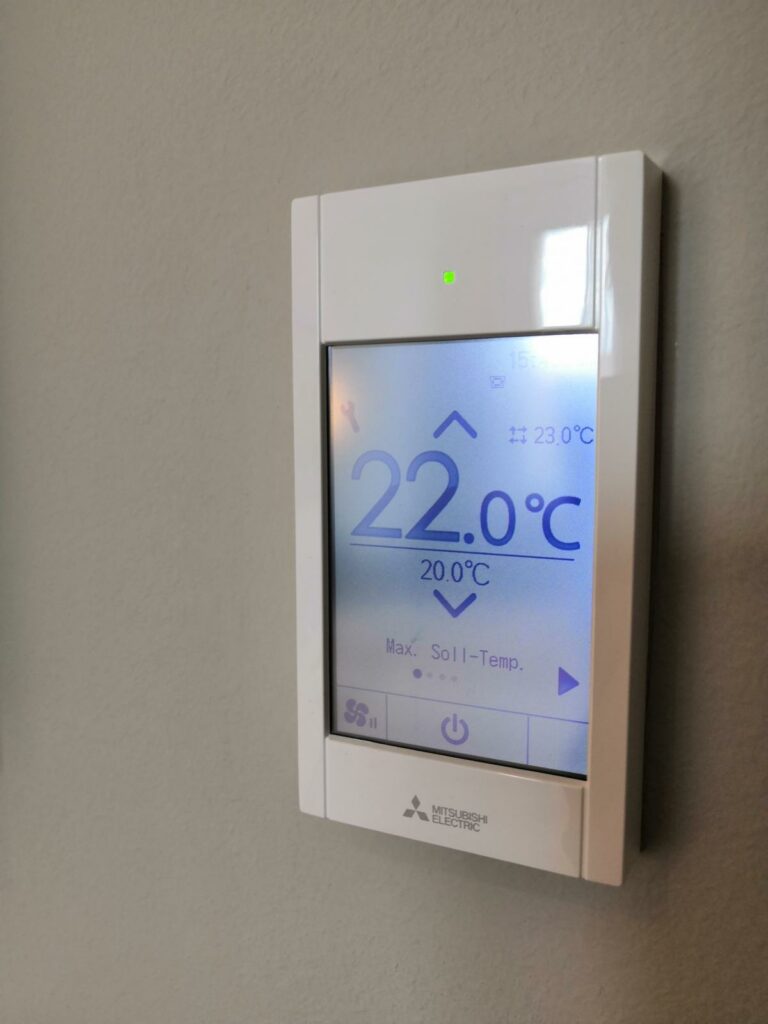 A small electric kettle is available to prepare instant coffee and tea. It is a pity that Premier Inns do not have built-in refrigerators. There would have been enough space in this room without a doubt. I know that a small fridge, or "mini-bar" is not standard in budget hotels, but this would be an opportunity for the Premier Inn to score even more points and stand its ground on the German market.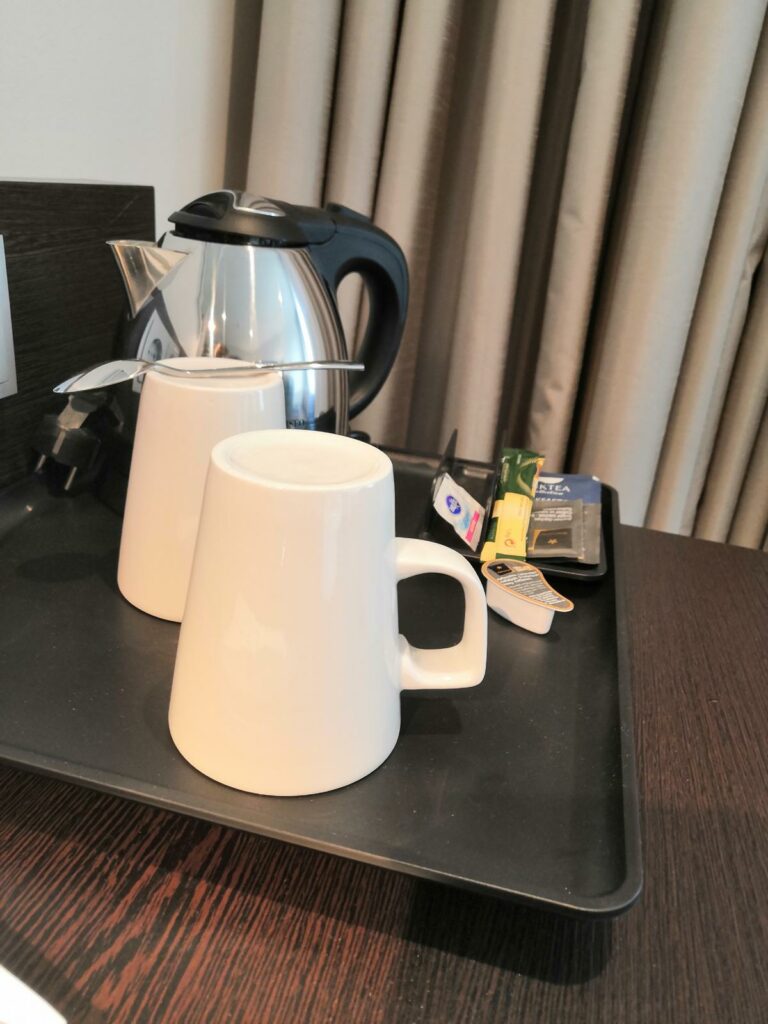 As it is a budget hotel, Premier Inn Munich City Center has no wellness or spa facilities. If you want a little spa and wellness, just a block west you can visit the Mathilden Hamam, an ottoman steam bath with a focus on relaxing and traditional massages (5 Mathilden Street, https://hamam.de/).
Due to the Covid 19 pandemic, the breakfast room was closed at the time of my visit. In this context, I can unfortunately not comment on the range and quality of the breakfast.
The breakfast in buffet form is taken in the lobby. In the back of the lobby is a buffet, which is filled at breakfast time. The drinks and coffee are apparently prepared in the street cafe "1st Cup".
When I visited the hotel, the "1st Cup" was not open yet, but the opening was imminent. A follow-up research on the Internet revealed that this is indeed the "hotel café", but is probably independent and also attracts walk-in customers. The 1st Cup is held in the style of an American coffee shop and offers the regular coffee products that you know from such stores.
The prices are appropriate to the Munich city center, but not particularly expensive. I would say even a few cents below the regular prices.
You can get (as of 2020) for example a filter coffee for €3.50 (~4.25 USD, ~3 GBP, ~ 5.40 AUD) or Cappucino, tea, hot chocolate for €2.90 (~3.50 USD, ~2.50 GBP, ~4.45 AUD). It is interesting to note that 1st cup charges a surcharge of 30 cents (~0.35 USD, ~0.25 GBP, ~0.46 AUD) for disposable cups.
The hotel also offers a small selection of  burgers, toasts and pizzas for lunch and dinner.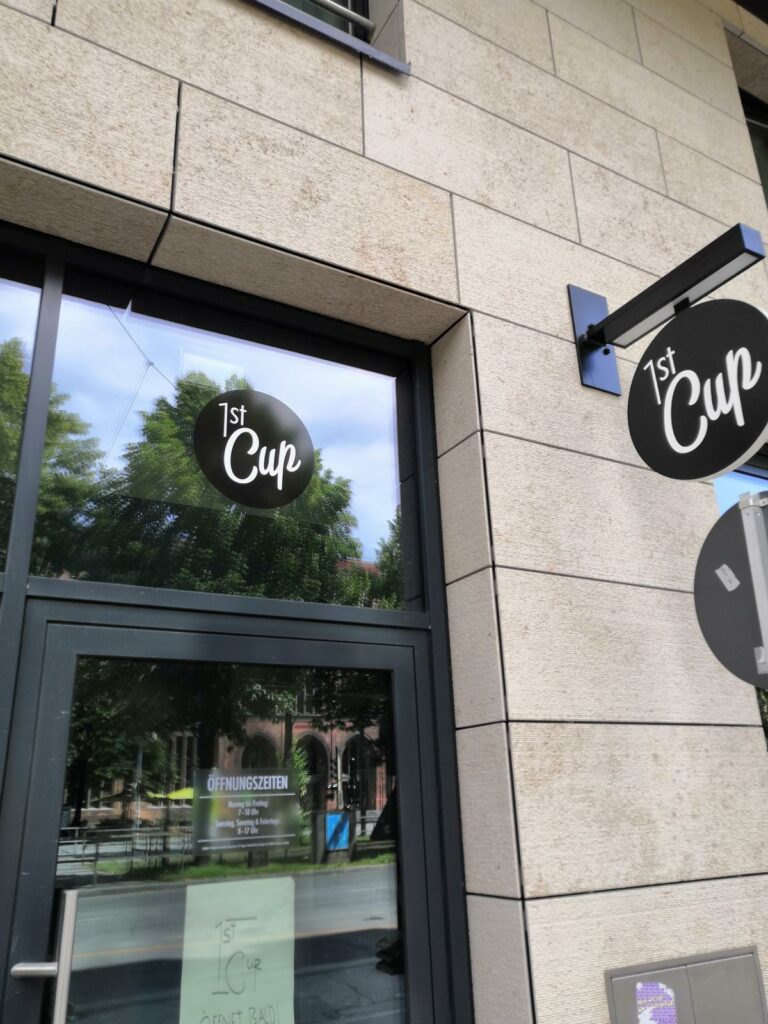 The Premier Inn Munich City Center makes a really great impression on me. Especially if you want to explore the old town, having only a short time to discover Munich, or maybe you arrive by train and want to stay close to the main station, the hotel is an ideal base.
The location and the smart features for a budget hotel are clearly positive. However, I would recommend another hotel in a different part of town for people who are particularly sensitive to noise and also for people who are looking for peace and quiet and don't particularly want to be surrounded by crowds of people every day.
The Premier Inn Munich City Center has extremely good ratings throughout the Internet (as of 2022):
Google: 4.4 (of 5)
Booking: n/a
tripadvisor: 4.5 (of 5) "Excellent"
Holidaycheck: 4,9 (of 6)
Expedia: n/a
trivago: 8.7 (of 10) "Excellent"
Agoda: n/a
Rating: Premier Inn Munich City Centre
The Premier Inn Munich City Central left me with a superb impression. Although it opened just before my visit, everything worked without problems. The fact that the coffee shop was not opened yet and there were some restrictions due to the Covid pandemic cannot be blamed on the hotel chain.
I recommend this budget hotel to anyone who wants to be as central as possible to Munich's old town. From here you can explore the entire city center on foot. The hotel is also ideal for guests who have a stopover by plane and want to explore the city.
As mentioned, I would not particularly recommend the hotel to travelers who want to be in a quiet sidestreet, away from the hustle and bustle of Sonnenstr. But what alternatives are there for these travelers?
I would recommend these travelers to consider the following hotels:
Motel One Munich Deutsches Museum (Located in Haidhausen district just one urban rail station from the city center and in walking distance to Deutsches Museum)
Arthotel ANA Diva Munich (Located just one subway stop from Munich's Main station, right around the corner of Löwenbräukeller beer hall)
As the hotel is centrally located, Munich's Old Town with lots of restaurants, bars and traditional beer halls is just a 10 minute walk away. 
here are some recommendations for eating out:
Breakfast & lunch: Cafe Kranich
https://www.cafe-kranich.de/
Traditional: Wirtshaus zum Straubinger. A traditional Bavarian restaurant, not overpriced, relaxed atmosphere.
https://www.zumstraubinger.de/
Burger & fries: Hans im Glück Isarpost, directly opposite of the hotel entrance. Good burgers, belgian fries and lemonades. During the summer months also with terrace. Relaxed atmosphere.
https://hansimglueck-burgergrill.de/en/burger-restaurant/muenchen-isarpost/
Steak & Meat: Abacco's Steak House. Premium steaks, hot stone self-grilling, sophisticated atmosphere.
https://www.abaccos-steakhouse.de/muenchen.html
Beer hall: Augustiner Stammhaus. One of the oldest beer halls. relaxed atmosphere, many tourists.
https://www.augustiner-restaurant.com/en/
Wine-bar: Weinhaus Neuner. Traditional wine-bar. sophisticated atmosphere. 
https://weinhaus-neuner.de/
Cocktail-bar: Jaded Monkey. New York style Cocktail Bar.
http://www.jadedmonkey.de/
Club: Milchbar. Sometimes great, sometimes strange. Like a box of chocolates. 
https://milchundbar.de/
Photos by wheretostayinmunich.com